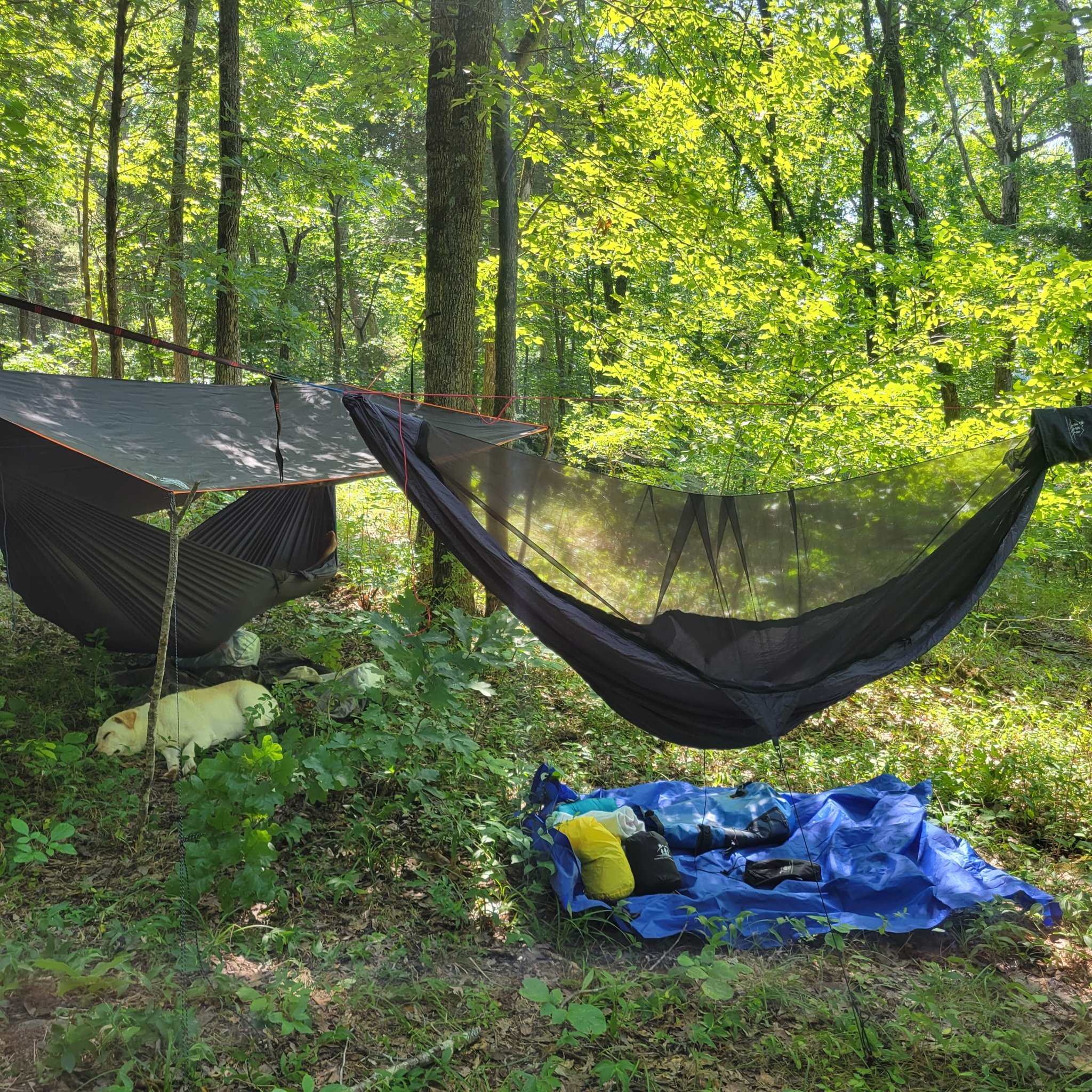 Premium hammocks for backpacking enthusiasts. Top quality, great price, ready to hang.
Elevate Your Outdoors - Affordable Comfort & Simplicity
Shop Now
Find Your Perfect Hang: Shop Products by Category
Hanging Today for a Better Tomorrow
We are a proud supporter of The National Forest Foundation. Each purchase of a hammock and tarp bundle plants two trees in a National Forest that needs it the most
Hanging High Hammocks is an American company that provides high-quality and affordable camping gear, including hammocks, tarps, suspensions, and more. Our mission is to make comfortable hammock camping accessible to everyone without breaking the bank. Whether you're new to hammock camping or looking to upgrade your current setup, we have everything you need.
★★★★★

This bundle has everything you need for a weekend or week long hiking adventure. The hammock is exactly how it's described. It's wide enough to turn sideways so you can sleep on your side, it has the ridge line built in and, bug net , tarp , line, tree wrap . Everything at a great price Don't waste your money elsewhere

Mike Hansen
★★★★★

This is a quality made ridgeline. I usually make my own but stumbled on this site and noticed this ridgeline. Being short on time to make anything, thought I would give it a try. Very satisfied and at a considerable bargain price compared to some more well-known brands. Website and shipping all top-notch.

Bryan
★★★★★

Setting up your tarp using this continuous ridge line was very simple and fast. The length of the ridge line is sufficient to span between the trees and definitely enough to wrap around the trees. Being able to adjust the tarp of the hammock makes this a no brainer purchase. The quality of the workmanship is superior and I know I will be able to get many many adventures using this product. Shipping was very fast and I am very pleased to make many more purchases from this company. I look forward to more products in the future.

Michael Swinyard
★★★★★

This is a great company to do business with very friendly order arrive as expected on time really a quality product I highly recommend them.

Jim
★★★★★

I was on the hunt for a long, long time to find the setup that has the features in this kit and I almost gave up. Then I stumbled onto Treavor's videos on YouTube (great by the way) which obviously led me here. 11ft with side tie outs, built-in bug net, internal storage pocket, a tarp made to be set up the right way, everything I have been in search of! I ordered the ridgeline to put the cherry on top and it is a work of art as well. Quit shopping around and be done right here.

Charles Kelly
Free Shipping
Orders over $35 ship FAST and FREE!
What is Hammock Camping?
Hammock camping is a form of outdoor camping where instead of sleeping in a traditional tent on the ground, one sleeps in a suspended hammock. The hammock is typically made of lightweight and durable material and is hung between two trees or other sturdy anchor points. The camper lies in the hammock in a comfortable, flat position, allowing for a good night's sleep.
Hammock camping has become increasingly popular in recent years due to its many benefits. It's more comfortable and easier to set up than traditional camping, it's lighter to carry, and it provides a unique and comfortable sleeping experience. Additionally, hammocks can be set up in areas where it may be difficult to pitch a tent, such as steep inclines or rocky terrain.
For those who enjoy camping and the great outdoors, hammock camping is a great option to try. With the right gear and a bit of practice, it can be a comfortable and enjoyable way to camp and experience the natural beauty of the outdoors.
This section doesn't currently include any content. Add content to this section using the sidebar.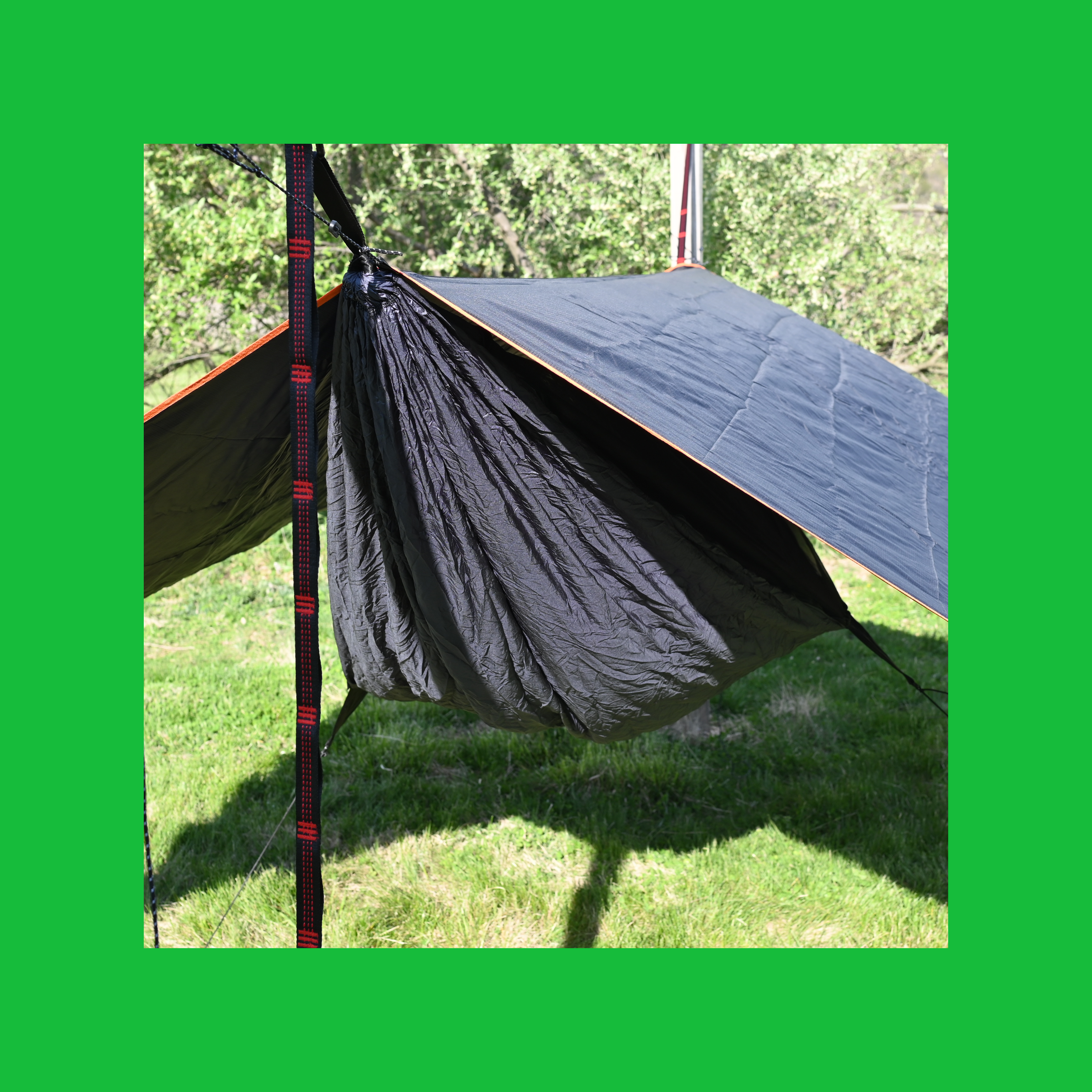 All In One
The Weekender
All in one Hammock and Tarp bundle! Everything you need to Get Hanging. This Bundle will have you backpacking confidently and comfortably in no time!
Shop Here
Contact us
Have any questions or looking for a custom order? Drop us an e-mail and well get back with you!